The new Kia Ceed makes its public debut today at the 2018 Geneva International Motor Show. Now in its third generation, the new Ceed – designed, developed, engineered and built in Europe – strengthens Kia's presence in the European C-segment with innovative new technologies, a mature and athletic new design, and a more engaging drive. Since the first-generation Kia cee'd started production at Kia's new Slovakian manufacturing facility in December 2006, more than 1.28 million units have been built. A new naming format – cee'd becomes Ceed – consolidates its reputation as a car for the Community of Europe, with European Design. More than 640,000 of the second-generation model have been built since production began in 2012. As it enters its third iteration, the new Ceed is expected to account for an even greater proportion of Kia's European sales.
Like its predecessors, the new model has been designed, developed and engineered in Frankfurt by Kia's European design, product development and R&D teams. It will be manufactured at the brand's production facility in Žilina, Slovakia, alongside the Kia Sportage and Kia Venga. Michael Cole, Chief Operating Officer for Kia Motors Europe, comments: "The Kia Ceed has been a lynchpin in the brand's consistent growth across Europe for more than a decade. Created for European buyers, the introduction of the Ceed in 2006 represented a watershed moment for Kia.
"Building on these solid foundations, the new Ceed offers a truly contemporary and recognisable design, and advanced technologies to enhance comfort, convenience and safety. Its new engines and suspension will make it more enjoyable and engaging to drive, and will continue to offer the same high quality that customers expect from Kia. This will be one of the most innovative cars in its class." The five-door hatchback will enter production in May and sales will commence exclusively across Europe at the end of Q2 2018.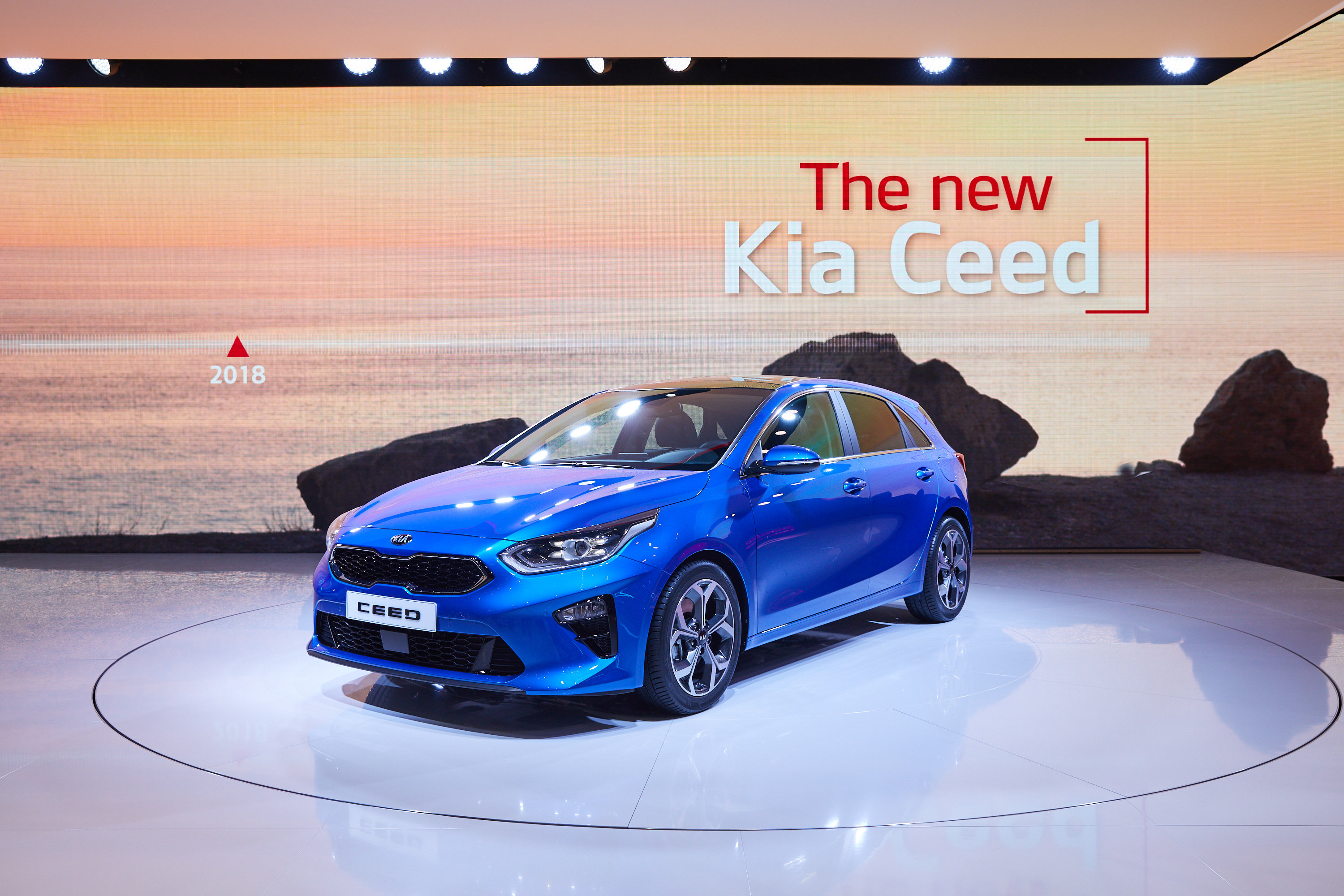 An expanded role for the Ceed in the European C-segment
In 2017, the C-segment accounted for 22% of all European vehicle sales, and is consistently one of the two largest segments by volume. The outgoing Ceed accounted for 16% of Kia's total European sales in 2017, and has consistently ranked alongside the Sportage as one of the brand's best-selling models in Europe since its launch in 2012.
Michael Cole comments: "In 2006, Kia's share of the European market was around 1.5%. In 2017, our market share reached 3.0%*. Since the introduction of the Ceed, Kia's annual European sales have more than doubled, from 225,000 in 2006 to more than 472,000 in 2017. In the medium term, we are targeting annual sales of more than 500,000 vehicles. The Ceed model family will therefore continue to underpin the sustained growth of the Kia brand for years to come, remaining one of our best-selling product lines."
The Ceed occupies a unique position in the Kia line-up, perceived by buyers as the most dynamic and sporty vehicle to drive, while also being one of the most reliable, practical and recognisable. Aided by an expanded product line-up, which grew with the arrival of GT and GT-Line models, Kia's C-segment hatchback represents the 'centre' of the brand.
Michael Cole adds: "The Ceed has become a recognisable sight on European roads, and buyers understand what it represents for Kia. It is a talisman for reliability and quality in the segment, with customers appreciating its safety and comfort technologies, and the fact that it is designed, developed, engineered and built here in Europe. The new model will reinforce and build upon these strengths." The new five-door hatchback is revealed today alongside the new Ceed Sportswagon, the second body style to be added to the Ceed range.
Mature athleticism – a new design for a new generation of Ceed
The new Kia Ceed has been designed at the brand's European design centre in Frankfurt, Germany, under the direction of Gregory Guillaume, European Head of Design, and Peter Schreyer, President of Design and Chief Design Officer. Carrying over the sporty, emotional design character of the Stinger, the new Ceed conveys a more self-confident new look – one that is both emotive and precise in its execution.
Lower, wider, and with a longer rear overhang than the car it replaces, the new Ceed's cab-rearward silhouette exhibits a more mature sense of athleticism. Straight lines replace the rounded-off edges of its predecessor, evolving the front of the car with a wider 'tiger-nose' grille and lower air intake, and precise, linear shapes framing its 'face'. The new model features 'ice cube' LED daytime running lights as standard, echoing the appearance of earlier GT and GT-Line models. In profile, the sharp, straight lines visually lengthen the bonnet and give the car a more upright stance. A greater sense of maturity and strength is created in its shoulder line, which now runs along a more horizontal plane. The new model adopts the wide C-pillar that has become a hallmark of Kia design in recent years, enhancing its cab-rearward stance. This also gives the upper window-line a sleek new 'half-moon' shape. At the rear, new LED daytime running lights give the Ceed greater visibility – and recognition – on the road. Paired with straight lines in the bodywork and a subtle rear boot spoiler, the Ceed presents a more stable overall appearance.
From launch, the new Ceed five-door hatchback will be available in a choice of 11 paint finishes. A selection of wheels and designs are available, with buyers able to choose from 15-inch steel wheels, 16-inch steel or aluminium alloy wheels, and 17-inch two-tone diamond cut aluminium alloy wheels. Inside the cabin, the Ceed is more ergonomic than ever, and with higher-quality materials used throughout. The cabin architecture from the most recent Kia vehicles has been adapted for the new Ceed, with the dashboard laid out horizontally for a more sculptural, seamless and slimline appearance. This design also creates greater space and a sense of openness for the front passenger, allowing more space in the footwell and a clearer view ahead.
The dash is split into an upper area – for the 'floating' touchscreen infotainment system – and lower area, housing controls for audio and heating and ventilation. Driver-centric in its layout, the centre console is angled slightly towards the driver's seat for ease of use on the move. The interior is finished in a higher proportion of sophisticated soft-touch materials throughout, subtly intensifying the refined and upscale ambience of the cabin. Surfaces are finished with metallic or satin chrome trim, with buyers able to choose from a range of cloth, synthetic leather or genuine leather upholstery. A leather-wrapped steering wheel and gear stick are also available as an option.
Constructed on Kia's new 'K2' platform, the new Ceed is 20mm wider (1,800mm) and 23mm lower (1,447mm) than the outgoing model. Its wheelbase remains the same at 2,650mm, with the front overhang shortened by 20mm (to 880mm), and rear overhang extended by 20mm (now 780mm). Its wider dimensions and longer rear overhang create a more assertive and sporty stance, for a more confident presence on the road. The new platform supports the Ceed's more efficient packaging, with a more spacious cabin than before. The wider body creates greater shoulder room for rear passengers (increased by 34mm to 1,406mm), while a 15mm-lower seating position in the rear creates more knee and leg room for passengers in the second row. Despite the lower roofline, the platform and lowered front seating position create greater front-row headroom than before (now 987 mm). The lower rear bench also ensures similar levels of headroom for rear passengers.
While the new Ceed five-door hatchback occupies a similar on-road footprint to its predecessor, it boasts a larger 395-litre boot – increased in size by 15-litres. The boot lip is also substantially lower than before – the lift-over height is reduced by 87mm compared to the outgoing Ceed, making it easier to load heavier items into the boot. A split-level boot floor allows owners to lower or raise the height of the boot floor, to accommodate larger cargo or create a hidden compartment beneath.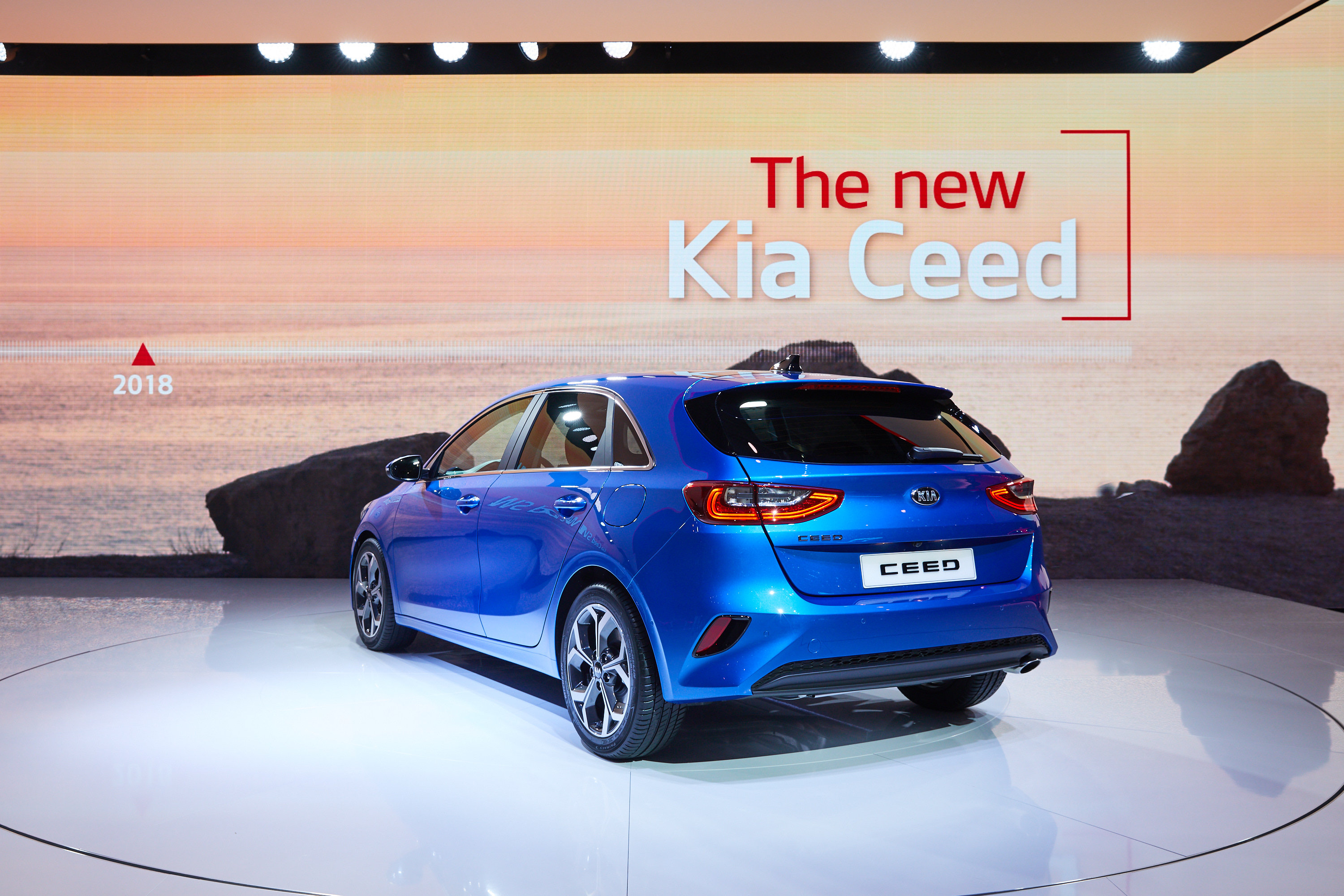 Engineered for European roads
The new Ceed has been engineered exclusively for European roads, with European buyers in mind. The ride and handling characteristics of the new model have been tuned to elevate the Ceed over its predecessor in terms of dynamism and driver engagement. The new fully-independent suspension system will provide drivers with more agile and immediate handling responses, complemented by revised spring and damper rates and a faster steering rack. The ride has been developed on Europe's wide variety of road surfaces, remaining comfortable while giving drivers the confidence of tighter body control under cornering and stability at higher speeds.
The new Ceed range will be powered by a wide choice of powertrains developed to meet diverse buyer needs. Gasoline options include an updated version of Kia's popular 1.0-litre T-GDi (turbocharged gasoline direct injection) engine, producing 120ps, as well as a new 1.4-litre T-GDi power unit. Replacing the earlier 1.6-litre GDI engine, the new 'Kappa' 1.4-litre T-GDi engine produces 140ps, 4% more than its predecessor despite its lower displacement. The engine's turbocharger ensures a wider torque band than the earlier 1.6-litre engine, making it more responsive in a wider range of driving conditions – while also reducing emissions. Both T-GDi engines are fitted with a gasoline particulate filter to further reduce tailpipe emissions, ensuring the new Ceed goes beyond the requirements of the Euro 6d TEMP standard. A 100ps 1.4-litre MPi (multi-point injection) engine will also be available.
The new Ceed is also available with Kia's all-new 'U3' diesel engine. Designed to go beyond the stricter limits laid down by the latest Euro 6d TEMP emissions standard, the new 'U3' 1.6-litre CRDi (common-rail direct injection) uses Selective Catalytic Reduction (SCR) active emissions control technology to significantly reduce emissions. The new engine therefore produces less carbon dioxide, particulate matter and NOx compared to earlier Kia diesel engines. Available with a choice of power outputs (115 and 136ps), the new 1.6-litre diesel produces 280 Nm of torque. Fitted with the new engine, the Ceed's carbon dioxide emissions are expected to fall below 110 g/km on the new Worldwide Harmonised Light Vehicle Test Procedure (WLTP), when converted to the New European Driving Cycle (NEDC).
Every engine will be paired with a six-speed manual transmission, while the new 1.4-litre T-GDi and 1.6-litre CRDi engines will also be available with Kia's seven-speed double-clutch transmission.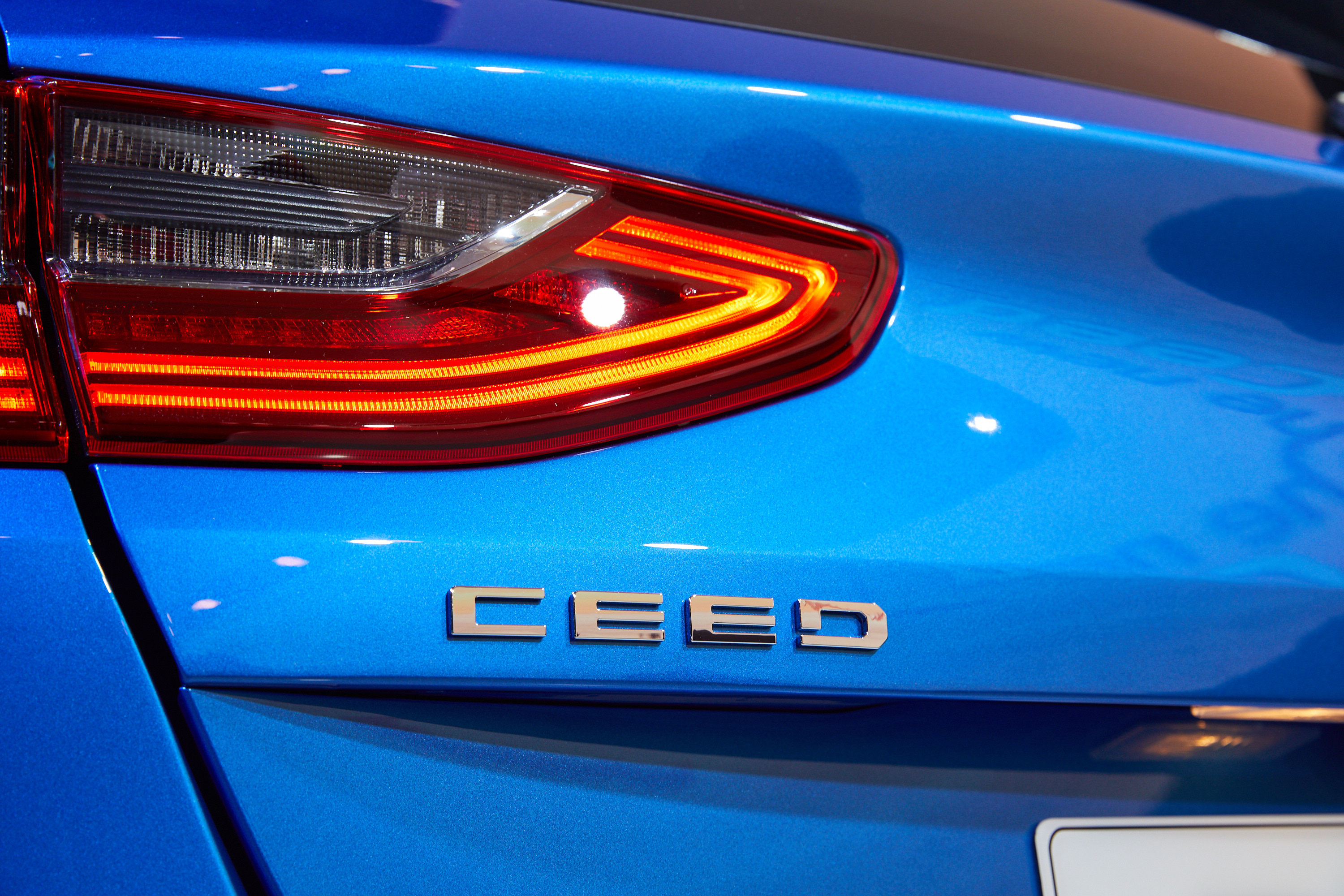 Technological innovation to enhance
Innovation sits at the heart of the new Kia Ceed, which will become the most high-tech car in its class when sales commence. The cabin features a wide range of new technologies to enhance comfort and convenience for occupants. The 'floating' infotainment system is available as either a 5.0- or 7.0-inch touchscreen audio system, or 8.0-inch touchscreen navigation system, with navigation and Kia Connected Services powered by TomTom®. The system enables full smartphone integration with Apple CarPlay™ and Android Auto™. Android Auto™ is designed to work with Android phones running 5.0 (Lollipop) or higher. The Ceed's Apple CarPlay™ system is compatible with the iPhone 5 and every iPhone released since.
Buyers can also specify a powerful JBL Premium sound system with Clari-Fi music restoration technology. Standard technologies include full Bluetooth smartphone integration, as well as automatic lights and keyless entry. A Drive Mode Select system will enable owners to tailor their driving experience, with Normal and Sport modes. Drivers can use Drive Mode Select to alter the level of effort required to steer the car, while each mode subtly changes the character of the engine. Normal mode maximises the potential for greater fuel efficiency and offers more relaxed steering inputs. Sport mode enhances throttle responses, enables faster acceleration – from a standstill and at speed – and adapts the steering to offer additional weight and more decisive responses to driver inputs.
An optional heated windshield – with nearly-imperceptible wires to gently heat the glass – makes the new Ceed easier to live with in colder months. The first time this technology has featured in a Kia, it melts away frost, ice and windscreen mist at the push of a button. A wireless smartphone charger, heated and ventilated front seats, and heated rear seats are also available. On the outside, the new Ceed is fitted with newly-designed 'ice cube' style LED daytime running lights (DRLs) as standard. Previously, these were only featured on GT and GT-Line models, embedded into the front bumper – the 'ice cube' DRLs are now integrated into the headlamp units on every model in the Ceed range. Full LED headlamps are also available as an option.
The Ceed's optional ECO Pack features an Active Air Flap, which closes and opens depending on engine cooling requirements, enhancing the car's aerodynamic efficiency for greater fuel economy. The ECO Pack also features an underbody cover and lower suspension, aiding air flow beneath the vehicle, as well as low rolling resistance Michelin tyres. In addition to the car's seven standard airbags, advanced driver assistance technologies further enhance occupant protection, using active safety systems to mitigate the risk of collisions. Standard safety technologies will include High Beam Assist, Driver Attention Warning, Lane Keeping Assist and Forward Collision Warning with Forward Collision-Avoidance Assist.
A first for any Kia sold in Europe, the new Ceed is available with Lane Following Assist, a 'Level Two' autonomous driving technology. Lane Following Assist tracks vehicles in front of the Ceed in traffic, and detects road markings to keep the car in its lane on the motorway. The system controls acceleration, braking and steering depending on the convoy of vehicles in front, using external sensors to maintain a safe distance from the vehicle in front. Lane Following Assist operates between 0 and 130 kph.
Additional available technologies include Smart Cruise Control with Stop & Go, Blind Spot Collision Warning, Rear Cross-Traffic Collision Warning, Smart Parking Assist, and pedestrian recognition with haptic steering wheel warnings for the Forward Collision-Avoidance Assist system. Every new Ceed is equipped as standard with Kia's Vehicle Stability Management (VSM), ensuring stability when braking and cornering by controlling the car's Electronic Stability Control (ESC) if it detects a loss of traction.
The new Kia Ceed will enter production in Q2 2018 at Kia's Žilina, Slovakia manufacturing facility. On sale across Europe from the end of Q2 2018, the Ceed will be covered by Kia's quality promise, with the brand's industry-leading 7-Year, 150,000-kilometre warranty as standard.