–––––––––


Thinking about tomorrow
Kia Motors Slovakia is company  with responsible approach to environment. Proof of this is new environmental strategy 2020. The strategy includes three main pillars:
Environmental awareness, management and collaboration
Conserve energy and reduce emissions using green production
Waste is resource
The company has implemented  environmental management system,  which was certified according to the international standard ISO 14001. This system commits the company to comply not only with the required legislation, but also to the constant improvement of environmental protection. An important part of the system is regular monitoring and evaluation of the consumption of water, energy, materials as well as the amount of waste, waste waters and emissions over the period of one car production, and acceptance of environmental goals for their reduction
Kia Motors Slovakia has set the following long-term environmental goals:
reduce emissions and lower risks of damaging the environment,
reduce the amount of produced waste and increase the rate of recycling and recovery,
reduce the amount of input raw material, energies, and chemicals per produced vehicle and per produced engine,
increase the level of emergency response,
chemical management development (REACH) and raise the employee awareness.
The company focuses on the development and production of vehicles that are environmentally friendly, which is demonstrated with certification of models produced at the plant with the following: LCA - Life Cycle Assessment based on ISO 14040 and Integrating environmental aspects into product design and development based on ISO 14062.
Kia Motors Slovakia is aware of the fact that environmental protection is a key to a long-term business success.
Taking into account our vision, strategy and core values, we pledge to follow these principles and commitments:
We recognize the environment as a core value of Kia Motors Slovakia.
Our goal is to improve environmental performance and we therefore commit to continuous improvement of the environmental management system.
We promote economic development and we are also committed to protecting the environment.
We realize our business activities in compliance with valid environmental laws, requirements of ISO 14001:2015 standard and other requirements, which we are committed to observe.
We monitor and review environmental performance and environmental objectives on a regular basis in order to continuously improve the environmental behaviour.
In business, we put emphasize on preventing  the  pollution of soil, air and water, sustainable and efficient use of natural resources and raw materials and climate change mitigation to minimize our impact on the environment.
The company management commits all persons working under its direction to pursue the above objectives.
Dae-Sik Kim
President and CEO, Kia Motors Slovakia s.r.o.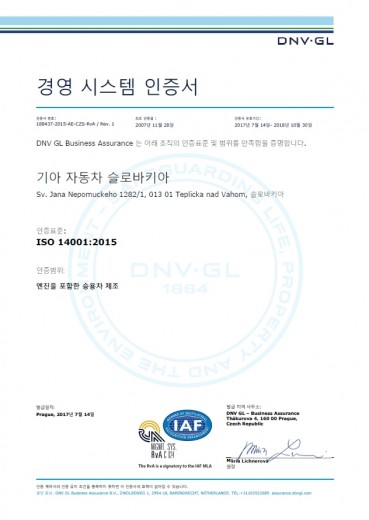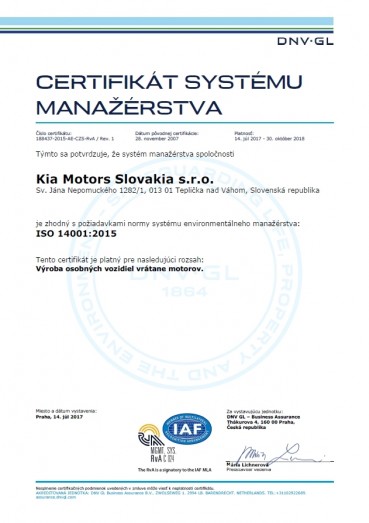 Kia Motors Slovakia s.r.o. has a valid integrated permit for the operation of Kia Motors Slovakia car plant - Paint, Wastewater Treatment Plant issued in accordance with Act No. 39/2013 Z.z. on integrated prevention and control of environment pollution and on amendment of certain acts. The integrated permit, which includes the equipment for waste disposal (Wastewater Treatment Plant) is published on the web site of the Slovak Environmental Inspection http://www.sizp.sk/section IPPC/Integrated permit/integrated permit issued.